I regularly commute into the city with my "travel tech" and I thought I would share some of my favorite tech accessories that are always in my backpack other than my laptop and iOS devices.  Being a mom means that I have to have my travel tech packed and ready to go at a moment's notice.  Some of the products below were provided by companies and if you purchase them our site may earn a small amount.  I picked all of these products based on my personal experience and usage of them over time.
LL Bean Quad Pack
I've had my LL Bean Quad Pack for several years and it's stood up very well to the test of time and can hold pretty much anything I need since it includes an integrated laptop sleeve, designated spot for my iPhone, waterbottle and more!  There are a ton of pockets and places to store things – and using my clear bags from Mia Tui makes finding things a snap! RRP $79.99 for the Quad Pack from LL Bean.
Griffin Survivor for iPad Mini
I really love the durability that this case provides for my iPad Mini which I frequently slip into my bag to take places with me since it is small and portable.  I don't have to worry about the screen getting scratched since the case features a protective covering.  I also loved all the color choices (including my favorite pink!) as well as the nice form factor for the case.  My iPad Mini has survived drops, falls, drool and more all while staying protected and no cracks!  For me, this is one piece of "insurance" that is totally worth it!   You can read my full review of the Griffin Survivor for iPad Mini.  Available from Griffin and Amazon for approximately $40 USD.
Mp2301 Performance Mouse by Kensington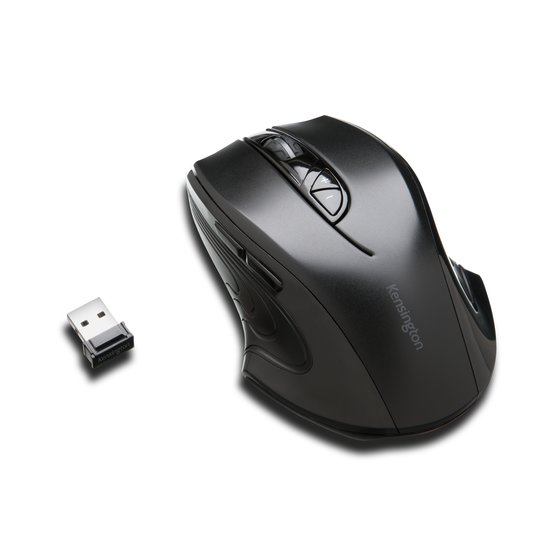 My next favorite accessory is my MP2301L Performance Mouse by Kensington.  This wireless mouse feels great in my hand, is small and portable and has great battery life.  One of the best features about it is the ability to track on almost anything – and that it takes standard batteries which are easy to find if they need replacing.  No cables, no cords no fuss! That means I can find a place to sit in the office or at a conference table and still have my mouse no matter where I am!  The reciever fits nicely inside the mouse so you don't lose it when not in use!  $39 USD RRP. Available from Kensington or Amazon.

LogiTech Wireless Presenter
I also like to bring my Logitech Wireless Presenter as I have spoken at a few meetings recently and it's so much easier to use a wireless presenter than having to walk over and click on the slide each time I need to move it forward.  One of my favorite things about this presenter is that it has a built in timer which allows me to know if I am spending too little or too much time on a specific slide.  It also has great range which means I can walk around the room while speaker rather than being pinned at a podium or in the front of the room. RRP $55 – 80 USD.  Available from Logitech or Amazon.
Griffin PowerJolt Dual Charger for the car
Since many of my commutes involve travel time in the car, I also use my Griffin PowerJolt Dual frequently.  This charger includes a lightening connection as well as a second port where you can plug in an micro-usb or any other USB accessible cable.  That means I can charge my phone and tablet at the same time or two smartphones.  RRP $20.00 from Griffin or Amazon.
Mobile Hotspot for Wireless on the Go
A mobile hot spot is another must have, especially when you are not sure how good your internet access will be.  I sometimes use my iPhone as a hot spot, but really like this Netgear Verizon hotspot as a better alternative and it has great battery life.  I enjoy using my Netgear Hotspot from Verizon since I added it to my wireless plan. Easy to use hot spot that works both inside and outside of the United States, provides great battery life and connectivity for your devices.  You can either pay for the device and add the service on the go or put it on contract   Check out my review of the Verizon Jetpack by Netgear.  RRP without contract is $199 USD and with contract it's $49.99.  Available from Netgear and Verizon.
Cord Storage and Organization
Organizing all of my cords is a snap with my Mia Tui clear plastic bag/PVC bag.  These bags have a zipper top and make it easy to see everything inside so I don't lose any small pieces.  They are far more durable than the Ziploc bags I was using, but are not totally waterproof.   I like that I can pull the medium size one out of my backpack and have my laptop cord, cables/plugs and chargers all in one spot.  RRP is $12.50 USD and they are available from Mia Tui.
Cables!  Griffin Premium Braided Lightening Cable
This cable lives in my tech backpack and it has stood up to being plugged, unplugged, used abused and re-used!  Griffin's cable is so much stronger than my traditional lightening cables for my iPhone due to the braiding on the cable which means that you won't need to treat it as delicately! I love that you don't need to fuss when plugging it in as it resists kinking and is stable so the connectors don't break. They offer a wide variety of braided cables for iOS and Android. RRP $35 USD. Available from Griffin and Amazon
Pocket Size Bluetooth Keyboard
If I am attending meetings and I decide not to bring my laptop – this pocket size Bluetooth Keyboard is perfect!  It's a tri-fold and folds up to about the size of my hand meaning I can easily slip it into my bag and use the keyboard to take notes instead of having to bring along my laptop all the time.  I have it paired to both my iPad and my iPhone 6 and finding keys on it is so much easier than having to use the on screen keyboard.  It lasts a long time too – I've used it multiple times and have not had to charge it yet!  The keys are a little bit smaller than a traditional keyboard, but honestly after using it for about ten minutes I didn't notice it at all!  RRP $36.99 and it's available at 1by1 and on Amazon.
Tech Armor Portable Power Bank
With all of these devices, I'd be lost without a portable power bank to ensure that they had power.  I've recently starting using this power bank from Tech Armor and really like how fast it charges my devices with a small size!  I can charge my iPhone (if it dies unexpectedly) or give my iPad a boost so that I can watch a movie on the train.  This works with all devices that use USB chargers, and I've passed it around a few times to coworkers and friends whose cell has died. Avoid the dreaded "low power mode" that your iPhone goes into just before shutting off! RRP from Tech Armor and Amazon is  RRP of  $40 USD.
JayBird BlueBuds Headphones
On the train, these headphones are a must since others don't want to hear my music, my apps or my movies!  JayBird BlueBuds X Premium Bluetooth Headphones simply put ROCK!  These Bluetooth earbuds pair to a variety of devices without the need for a cord to tether you to your device.  They include a filtering system which allows you to hear the music more clearly and feature playtime up to eight hours which means you can use them all week without having to worry about charging them.  These earbuds charge using a standard micro-USB connector and for those using Apple devices include a icon on screen telling you how much battery is left so you are not left without your earbuds at the wrong moment.  The earbuds fit either in the traditional under-ear which allows you to listen and take calls as well as the over ear which means it doesn't even feel like you are wearing earbuds.  The package includes three pairs of ear tips as well as ear cushions, a micro-USB cable and a carry case to hold your earbuds and the cords.  Jaybird has introduced an updated version since my original review, but I still use these a lot and they stand up great!  Sold by JayBird and Amazon for RRP of $150 USD.
Apex Fine Point Stylus by Lynktec
When attending meetings, I love to use my Lynktec Apex stylus, as I can use my iPad Mini and the stylus to take notes instead of having to pull out a pen and paper! I can draw and handwrite my notes which is perfect in a meeting, plus everything is stored in one spot so I don't have to worry about having the right notebook with me.  You can use it with or without Bluetooth – without it's mostly for sketching or note taking within specific apps but if you want to jot down notes it's best to link it to your device.  I loved the fine point and how it learned what I wrote using Notes+.  RRP $50 USD available from Lynktec and Amazon.
Wireless Storage – by Seagate Wireless Plus
Do you have memory woe's on your devices?  SeaGate Wireless Plus is there to help!  This small drive which is about the size of your hand holds a whopping 1 terabyte of data and works with a variety of devices and smartphones including iOS, Kindle Fire and Android.  It includes the ability to pass through Wi-Fi and you only need to connect your devices to the drive rather than having to connect to Wi-Fi which is especially handy if you are out and about or in a conference room at the office  and don't want to connect multiple iPads, iPhones or other devices to the drive.  That means you can use your hotspot and not worry about if you are using your laptop, phone or tablet!  Read my full review about this "must have" accessory.  RRP $140 USD for 1TB (other sizes available) Available from Seagate and Amazon
Leitz Mini Bluetooth Speaker
Have you ever tried to do a presentation in a conference room only to find the tinny speakers on your laptop are not loud enough for others to hear?  I stash this small Leitz  Mini Bluetooth Speaker in my backpack for those moments!  You can connect it to your smartphone, tablet or laptop via Bluetooth and people won't have to strain their ears to hear sound any longer.  It charges using micro USB and will last up to six hours of complete use.  You can even use it when you are using your smartphone as a speaker without sounding far away! I like it better for work rather than music! Compact design fits into your bag for on the go use!  RRP $35 USD.  Available from Amazon.
These are some of my travel "must-haves", what are yours? I'd love to hear what products you use when you go to work or on the train.
Note: Some of the products included in this article were supplied by the companies for review purposes, no other form of compensation was received. Some of the posts may include affiliate links Their inclusion was the decision of the author, all opinions stated in the article are those of the author and have been offered honestly.  This post contains affiliate links, which means I may earn a small amount if you purchase the products.